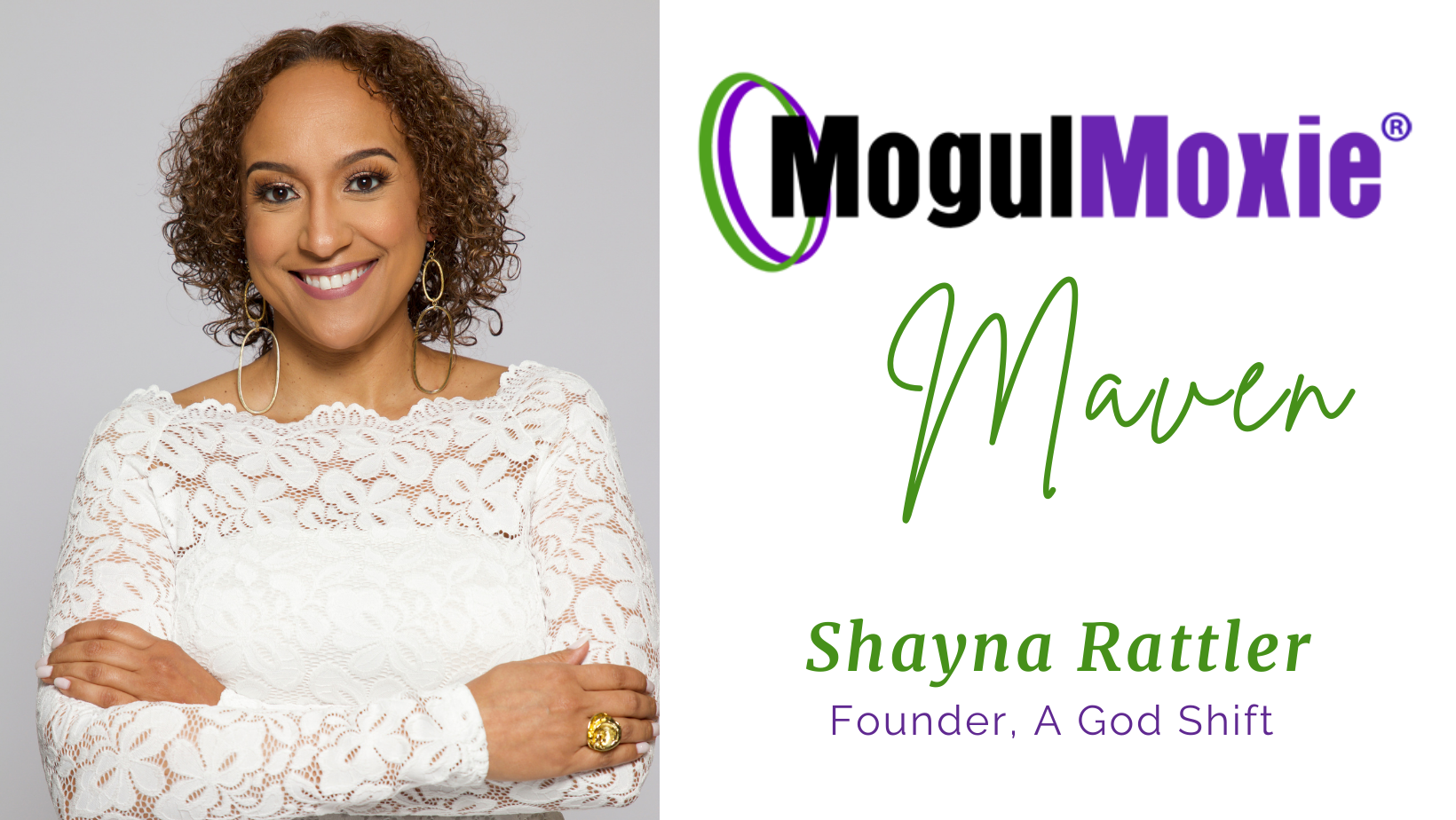 We are excited to announce that Shayna Rattler is our newest MogulMoxie Maven! 
Get ready to be encouraged, inspired, and empowered by our virtual chat with Shayna Rattler, founder of A God Shift.
At MogulMoxie® we believe in the value of both formal and informal education, so let's start here. Tell us about your formal or informal educational background. 
My background and degrees are in healthcare but I currently use all of my spiritual and natural gifts to empower others to embrace disruption and chase their God-ordained destiny.
What does ambition mean to you? 
Ambition is going after what you deserve and desire. It has caused me to have an unstoppable attitude and perseverance in pursuit of my goals
What does faith mean to you? 
Faith is believing in something you cannot see but have assurance in. It has been my anchor to move forward even when my steps are paved with uncertainty.
Tell us about your company. 
I am the founder of the God Shift Movement where we help individuals embrace disruption, collide with God's purpose, and confidently enter the next chapter of their lives. We do this through media, live events, and prophetic consulting.
Tell us about a typical day in your work life. 
No day is typical. Although there are some tasks that are inherently repetitious every day is a little different. What I can say, is that regardless of the day it is always chock full of phone calls lol
Tell us about what motivates you.
People's lives and the world at large are full of setbacks, disappointments, and uncertainties, and unfortunately, too many believers are not equipped to overcome those unexpected circumstances and enter into the life God is inviting them into. I believe this task should be simple to achieve and am committed to doing my part in helping others achieve that.
Have you ever struggled with confidence or courage?
I have been blessed not to struggle in these areas. Even as a child I was confident and courageous. My struggle is not allowing that confidence and courageousness to put me ahead of God's timing and will.
Tell us about one of the toughest things you've had to do in business and what you learned from it.
In 2018 I was faced with the tough decision to leave a business I loved and invested a TON of time and money into to go into ministry. I learned that oftentimes in life what looks like going backward is actually a requirement to successfully go forward. 
What is your favorite word and why?
Intentional. I believe you can have it all, but only if you are intentional about how you spend your time. That is the only way I can have as many irons in the fire as I do at any one time and not get burned by any of them
What have you accomplished, created, or built that makes you the most proud or brings you the most joy?
My TV show. I pulled off in 3 weeks what most do in 6-9 months which was a huge undertaking but the lives it has changed and will continue to change are so worth it.
What's coming up in your business that you want our readers to know about?
My team and I are in the process of launching a church tour for my recent book
How can our readers keep up with you?
Connect with me on our website at www.AGodShift.com and Instagram at @agodshift.
---
We hope you have enjoyed learning about Shayna's journey and are inspired by her wisdom. Share this interview with at least 7 people to keep the positive vibes and inspiration going.